A grey November afternoon
So it became Friday agian, as it should be. Life is a circle. We are born and the we die. Time waits for no one. So be sure to take care of the time you have been given. The day death comes knocking at your door it will be to late. (But when death do come, I would sugest that you do invite him in on tea and crumpets.) Remember that it is just your physical body that dies, your soul will go home to our Father.
God´s plan is at work! Death has lost its grip and has been left toothless after our Lord Jesus Christ´s death and resurection.
1 Corinthians 15:55-57
New International Version (NIV)
55 "Where, O death, is your victory?
    Where, O death, is your sting?"
56 The sting of death is sin, and the power of sin is the law. 57 But thanks be to God! He gives us the victory through our Lord Jesus Christ.
Romans 6:23
New International Version (NIV)
23 For the wages of sin is death, but the gift of God is eternal life in Christ Jesus our Lord.
So think about this when you think that your life is not worth anything. You are so important. God knows you from before you were born. Your life is not less than anyone elses. God loves you and see you as his child.
When the days are dark and you do feel all alone, reach out your hand and grab the only one that never fails.
Ephesians 6: 10-12).
Finally, be strong in the Lord and in his mighty power. Put on the full armor of God, so that you can take your stand against the devil's schemes. For our struggle is not against flesh and blood, but against the rulers, against the authorities, against the powers of this dark world and against the spiritual forces of evil in the heavenly realms"
Psalm 23
A psalm of David.
1 The Lord is my shepherd, I lack nothing.
2     He makes me lie down in green pastures,
he leads me beside quiet waters,
3     he refreshes my soul.
He guides me along the right paths
    for his name's sake.
4 Even though I walk
    through the darkest valley,
I will fear no evil,
    for you are with me;
your rod and your staff,
    they comfort me.
5 You prepare a table before me
    in the presence of my enemies.
You anoint my head with oil;
    my cup overflows.
6 Surely your goodness and love will follow me
    all the days of my life,
and I will dwell in the house of the Lord
    forever.
Yes this post is a tad gloomy I know, but it is an important one. So many of us feel like this. I am in no way trying to tell anyone that feels like this to pull them selves up by the bootstraps. No I am just trying to hopefully be able to show them that they are not alone, they are loved and they do matter!
God bless all y´all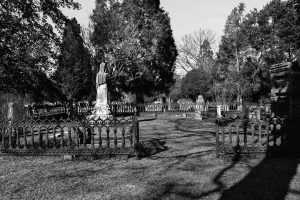 This entry was posted in Lady Shares by Lady Birgitha and comments are closed.