I know I said that winter was lurking, but I think that it has at the moment come to a dead halt. Yesterday it was a storm and just above zero Celsius. Today it is grey and about the same degrees. But we have almost done the decorations for Christmas. It is just the balcony left. Baking starts tomorrow. Countdown for family time has begun.
So time is upside down. Or is it we that are upside down. Things are not what they seem, and whatever seems to be does not. (I know this makes no sense, but that does not seem to be the case of the wether ether. ) It is soon December and winter should be here. But no snow, or cold as far as I can see.  As I look out the window I see the darkness falling behind the heavy grey sky. My mind wanders off to this weekend. To the lights and baking. All the happiness when family comes together. It will be the first of Advent on Sunday. Yes we have entered the time of waiting. What are you waiting for? I for one am waiting for the birth of baby Jesus, the Savior of the world. No I am not going to start a theological debate.
I just want to remind you of why we do celebrate Christmas. It seems to get forgotten in all this crazy shopping time of the year. We want this, the kids want that and then the dog or cat needs a present. Under the tree, if we even see it behind all the gifts.
So why did they wander all the way to Bethlehem? Why is it so important that we remember the real reason for the season? I leave that to you to think about.
Luke 2:1-20
New International Version (NIV)
The Birth of Jesus
2 In those days Caesar Augustus issued a decree that a census should be taken of the entire Roman world. 2 (This was the first census that took place whileQuirinius was governor of Syria.) 3 And everyone went to their own town to register.
4 So Joseph also went up from the town of Nazareth in Galilee to Judea, to Bethlehem the town of David, because he belonged to the house and line of David. 5 He went there to register with Mary, who was pledged to be married to him and was expecting a child. 6 While they were there, the time came for the baby to be born, 7 and she gave birth to her firstborn, a son. She wrapped him in cloths and placed him in a manger, because there was no guest room available for them.
8 And there were shepherds living out in the fields nearby, keeping watch over their flocks at night. 9 An angel of the Lord appeared to them, and the glory of the Lord shone around them, and they were terrified. 10 But the angel said to them, "Do not be afraid. I bring you good news that will cause great joy for all the people.11 Today in the town of David a Savior has been born to you; he is the Messiah, the Lord. 12 This will be a sign to you: You will find a baby wrapped in cloths and lying in a manger."
13 Suddenly a great company of the heavenly host appeared with the angel, praising God and saying,
14 "Glory to God in the highest heaven,
    and on earth peace to those on whom his favor rests."
15 When the angels had left them and gone into heaven, the shepherds said to one another, "Let's go to Bethlehem and see this thing that has happened, which the Lord has told us about."
16 So they hurried off and found Mary and Joseph, and the baby, who was lying in the manger. 17 When they had seen him, they spread the word concerning what had been told them about this child, 18 and all who heard it were amazed at what the shepherds said to them. 19 But Mary treasured up all these things and pondered them in her heart. 20 The shepherds returned, glorifying and praising God for all the things they had heard and seen, which were just as they had been told"
I leave you with this for now.
God bless!
by Lady Birgitha
As this year is moving to an end, the winter is slowly creaping up on us. Like a wild cat it waits on its prey. In this case the unexpected human. Unexpected you say, it happens ones a year. Yes, but even though it does, we humans try to pretend like it is a new invention every year.
But then again we humans have a history of sticking our heads in the sand, or if I close my eyes it will not see me. God has over the centuries tried to keep us from behaving like headless chickens. Some has listened.
If we do not want a complete and utter dark cold winter, we have to stop behaving like small children. With that I mean that if we do not stand up we might have a less human world to wake up to. This kind of winter coldness are harder to get passed. The natural winter will come and go like it should, but the one that is creaping up in our hearts are harder to thaw up.
Hosea 10:12
I said, 'plant the good seeds of righteousness, and you will harvest a crop of love. Plow up the hard ground of your hearts, for now is the time to seek the lord, that he may come and shower righteousness upon you.'
So even if it is hard to do, we have to start, before our hearts get frozen solid. Pray that God will keep your heart warm and soft, in that way you will be well equipped for the battle ahead of you. Only with a soft and warm heart can you put on the armour of God.
Ephesians 6:10-18
The Armor of God
10 Finally, be strong in the Lord and in his mighty power. 11 Put on the full armor of God, so that you can take your stand against the devil's schemes. 12 For our struggle is not against flesh and blood, but against the rulers, against the authorities, against the powers of this dark world and against the spiritual forces of evil in the heavenly realms. 13 Therefore put on the full armor of God, so that when the day of evil comes, you may be able to stand your ground, and after you have done everything, to stand. 14 Stand firm then, with the belt of truth buckled around your waist, with the breastplate of righteousness in place, 15 and with your feet fitted with the readiness that comes from the gospel of peace. 16 In addition to all this, take up the shield of faith, with which you can extinguish all the flaming arrows of the evil one. 17 Take the helmet of salvation and the sword of the Spirit,which is the word of God.
18 And pray in the Spirit on all occasions with all kinds of prayers and requests.With this in mind, be alert and always keep on praying for all the Lord's people.
With this I will say God bless!
by Lady Birgitha
Yes that big thing called life. What is it really? Well you get born and you have life. So life is breathing, flurishing and growing. But you can have life and still be dead. You can be dead tired, dead silent, or just plain dead inside. The two first ones are quickly fixed, more or less. If dead tired, get some extra rest and try to avoid whatever it is that puts you in that place. Dead silent can be fixed with some minor sounds. The third one is a bit more tricky. First one have to find the root to what makes one feel dead inside. This is where one needs help.  A therapist might be able to find the root, but to remove it is not their thing. They can point it out, but to fix it you need someone with a deeper knowledge.
There is help to get, you just need to see it. Seek and you shall find. Ask and you shall resieve. Knock and a door shall open. When you turn to the one that give life that last, the deathness inside will go away. He will renew and refresh you and your life.
Isaiah 41:18"I will open rivers on the bare heights And springs in the midst of the valleys; I will make the wilderness a pool of water And the dry land fountains of water.
Titus 3:5He saved us, not on the basis of deeds which we have done in righteousness, but according to His mercy, by the washing of regeneration and renewing by the Holy Spirit,
This is what life can be like, when we let God move in and renew us. The deadness goes away and we feel life flowing inside of us. We feel the transformation from being dead to becoming alive with a new life and purpose.
God bless!
by Lady Birgitha
It is Friday again and November is in the second week. But it is strange tidings, since it is slightly warm, grey and the fog is hanging like a wet blanket over the sky. It could be taken out of any old horror movie, like count Dracula or Frankenstines monster.
But just as well it could be our own minds from time to time. Ever felt like you are in the dark and have  a hard time to find the light switch? Like you are trying to see, but your sight is dimmed? That is the grey november fog that comes into your mind from time to time. It stays longer or shorter times, depending on how we manage to handle it.
It takes longer if we try to do it on our own and shorter if we pray about it and let the good Lord help us out.
In other words, it takes trust in our Abba to get it done. One have to take a step of faith and reach out into the fog praying that the good Lord to step in and clear our mind for us. He will grab your hand and pull you through.
But test everything; hold fast what is good.
God bless!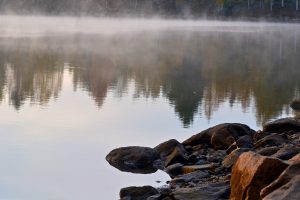 by Lady Birgitha