Under construction
It is a nice afternoon with a clear blue sky and the sun is bright. But here I am looking out on a construction site. I see a huge yellow crane moving things about and I hear men on the scaffolding. Just as the houses and other buildings here in my town are getting a make over, or a renovation so are we always being renovated or make overs. Besides the obvious difference of the buildings and us, there are things that are similar, like the scaffolding. The buildings have visible ones, but we have the ones that cannot be detected with mortal eyes. Our scaffoldings are made by faith and the trust we have for our Father. They are still there, even if we cannot see them. All of His children have them, since none of us are perfect and we still need to be worked with. Just as Paul speaks of in 1 Cor. 3:10–15 " According to the grace of God given to me, like a skilled master builder I laid a foundation, and someone else is building on it. Each builder must choose with care how to build on it. For no one can lay any foundation other than the one that has been laid; that foundation is Jesus Christ. Now if anyone builds on the foundation with gold, silver, precious stones, wood, hay, straw—the work of each builder will become visible, for the Day will disclose it, because it will be revealed with fire, and the fire will test what sort of work each has done. If what has been built on the foun­dation survives, the builder will receive a reward. If the work is burned up, the builder will suffer loss; the builder will be saved, but only as through fire.
What do I mean with that? Well As Paul states, Jesus laid the foundation, we are the builders. We are building the temple of God behind the scaffoldings of faith and trust. We are building on the foundation laid by Christ when we turned away from our former lives and became new in Him. From that day when our new lives began God is building a new person. He laid the foundation with Christ and us as the building blocks of the church. He uses His Word as the glue and our faith and trust as the scaffolding as we are rebuilt into the new person. On each and every person in His family is a sign hanging: "Under construction, God at work. " This means that we are not yet done. We will be, but not yet. We still have a very long way to go. But remember that God is at work with all of us. We are all under construction with a foundation that will never crack or be shaken. With Jesus Christ as our foundation there is nothing that can take us down.
God bless!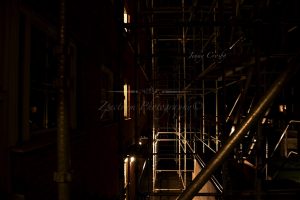 This entry was posted in Lady Shares by Lady Birgitha and comments are closed.